Description
PLEASE NOTE Before you order DesignPH you must have a copy of PHPP.  If you do not already own a copy of PHPP you will need to purchase a copy with DesignPH
What makes designPH so unique ?
designPH is a plugin for the popular 3D design software SketchUp.
designPH is the new, interactive and graphically oriented input interface for PHPP.
designPH has been developed by the 

 Passive House Institute to provide a 3D modelling interface that works together with PHPP (Passive House Planning Package).
designPH gives quick results using automatic analysis… The plugin provides an automatic analysis algorithm which can infer element types and area groups. Surfaces are given a colour-code so that it is possible to visually verify in the 3D model that all the heat-loss surfaces have been correctly taken into account.
designPH is a 3D interface for PHPP.  After importing a model to PHPP, the primary inputs on the Areas, Windows & Shading sheets will be mostly complete. This enables a result for specific space heat demand to be calculated quickly using default values, potentially saving significant time.
designPH is an iterative design tool. designPH also provides a preliminary simplified energy balance when the analysis process runs. This allows you to refine the design before exporting, facilitating a more effective iterative design process, and rule out poorly performing design options early on.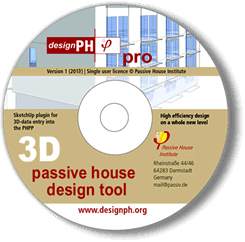 +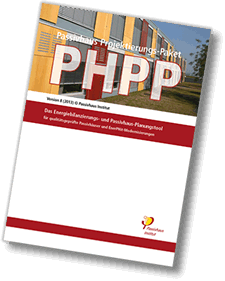 =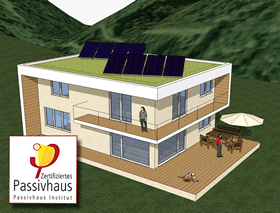 designPH facilitates the preliminary designing and energetically optimized design in only 4 steps:
1.   put your project into the virtual space – create your SketchUp 3D model or
use with minor adaptations an already existing
  2.   put your project at the right place – you choose the location of your project
directly in SketchUp and the relating climate out of a database in designPH
  3.   put your project into the right light – consider and check your specifications
and prepare it for your custumer
4.   check your project on PH suitability – with the 3-click export to PHPP
        you get immediately reliable results
… start now with the optimization process in designPH and refine the project directly in PHPP.
Compatibility
designPH 2.0 is currently compatible with SketchUp 2017 (Make or Pro), 2018 (Pro), 2019 (Pro), 2020 (Pro) and 2021 (Pro) desktop versions.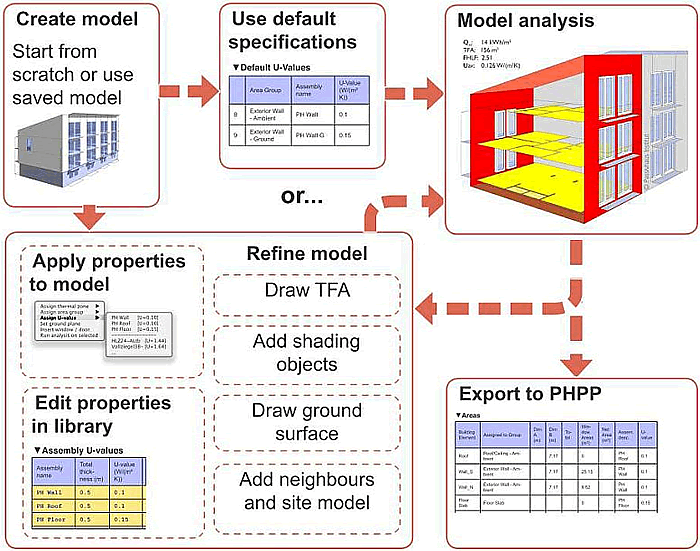 the designPH interface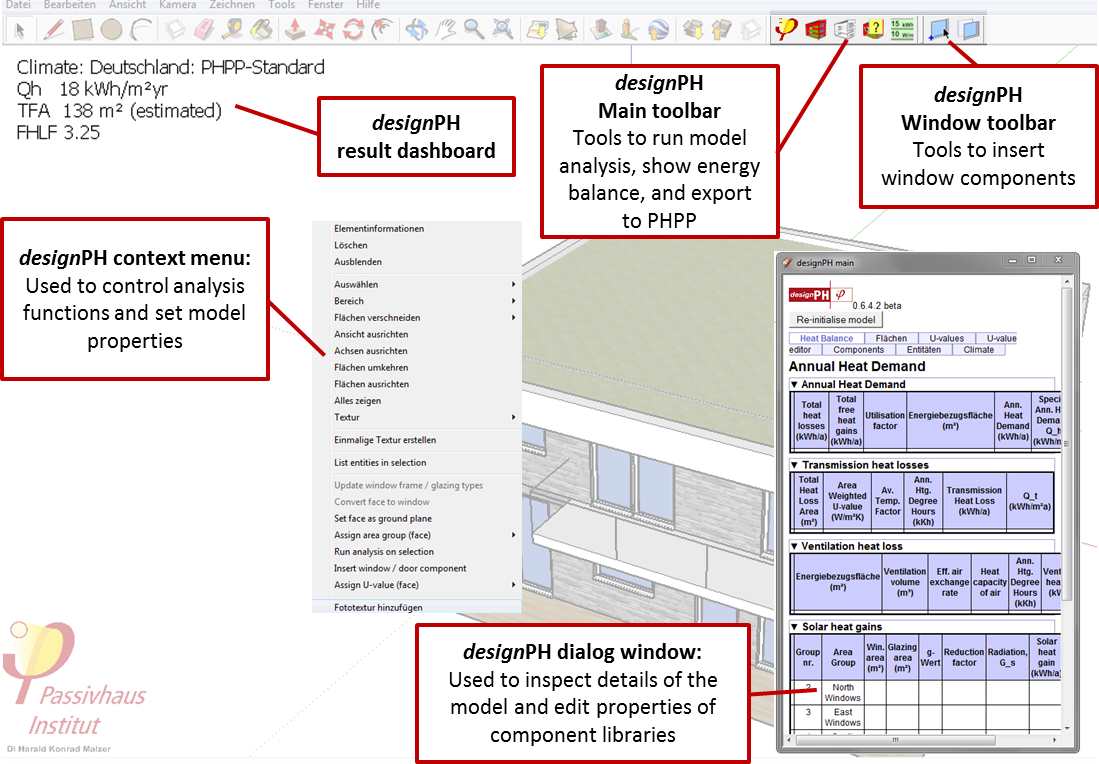 The primary designPH user interface is provided through a web dialog window which shows lists of the elements in the model, the properties that are assigned to them and libraries of properties such as assembly types, glazing types and frame types. The web dialog window is sub-divided into tabbed sheets with collapsible panels, allowing different information about the model to shown in the main view.
designPH 2.0 – new features
New shading analysis based on 3D ray-tracing and Perez radiation model. Complex shading scenes can be analysed accurately and both winter and summer shading factors can be exported to PHPP.
New "Compare results" tab allows the key analysis results to be tracked and compared over time as the model evolves.
Assignment of user-defined Thermal Bridge component entries.
Additional ventilation inputs such as the ventilation strategy, MVHR unit selection, pressure test result and more.
Improved automatic naming and ordering of windows and surfaces.
Improved User Interface.
The main highlight of this version is the new shading analysis based on 3D ray-tracing and Perez radiation model.
Currently, shading reduction factors in the PHPP are determined by entering the depth and offset of 3 discrete shading types; horizon, overhang and lateral reveal. The shading factors are then approximated by empirically derived algorithms, which have been calibrated against dynamic simulations using Dynbil.
This method has been continuously improved for over 20 years and proven to be reliable. However, using these 6 dimensions to describe all shading situations can be time consuming and restrictive in more complex situations.
A new method has been developed for designPH to calculate shading reduction factors by real-time geometric analysis of the model, based on detailed ray-trace detection of shading objects and a corresponding shading mask. This gives more easily and accurate shading factors for complex shading situations and greater sensitivity to certain types of shading objects.
Throughout the development stages we have tested and compared the shading outputs from PHPP, designPH2 and dynamic simulation results (using Dynbil) and have found good consistency and justified differences. Both designPH 2.0 and PHPP are therefore reliable tools for calculating the shading reduction factors in Passive House buildings.